Bed Bug Killer, Lice, Roach, Flea, and Tick Residual Treatment and Preventer, 1 Gallon
$90.00
+ 100% Effective All In One Pest Control during a (12)month study – Watch Video
+ Proven Through American Academy Entomological (12)month Research Program
+ Kills All States Of Pests Life Cycle adults, nymphs of bed bugs, roaches, fleas, ticks, ants, spiders, mites, dust mites, aphids, gnats, and other pests similar to the genetic makeup
+ Dry Residual Protection successful killing agent during (12) month testing period.
+ No Odor, Safe & Eco-Friendly – Child safe, pet safe, and no staining surface safe
+ No Worry Purchase – It Works & Loved By Customers Watch Video
Arrives in 3 to 5 business days
Description
Green Bean Buddy™ Bug Killer is an all-in-one pest control product certified by the American Academy of Entomological Sciences (AAES). This product is formulated to eliminate bed bugs, lice, fleas, ticks, roaches, ants, millipedes, silverfish, carpet beetles, spiders, spider mites, aphids, gnats, flies, centipedes, beetles and prevents future infestations for up to 30 days. This formulation is used by numerous hotels, hospitals, resorts, and pest management companies.
How It Works:
What To Expect:
Easy To Use:
The easy to use formula works in just 5 – 10 minutes upon first application. Just spray Green Bean Buddy™ Bug Killer, wait, and let settle. Then watch as the harmful bugs either scatter from their hiding locations or die with your first treatment. Pest control management professionals use this exact formula to reduce labor costs and increase extermination success rates.
Fast Results:
You will notice harmful insects scatter and killed within the first minutes of using the product as per label instructions.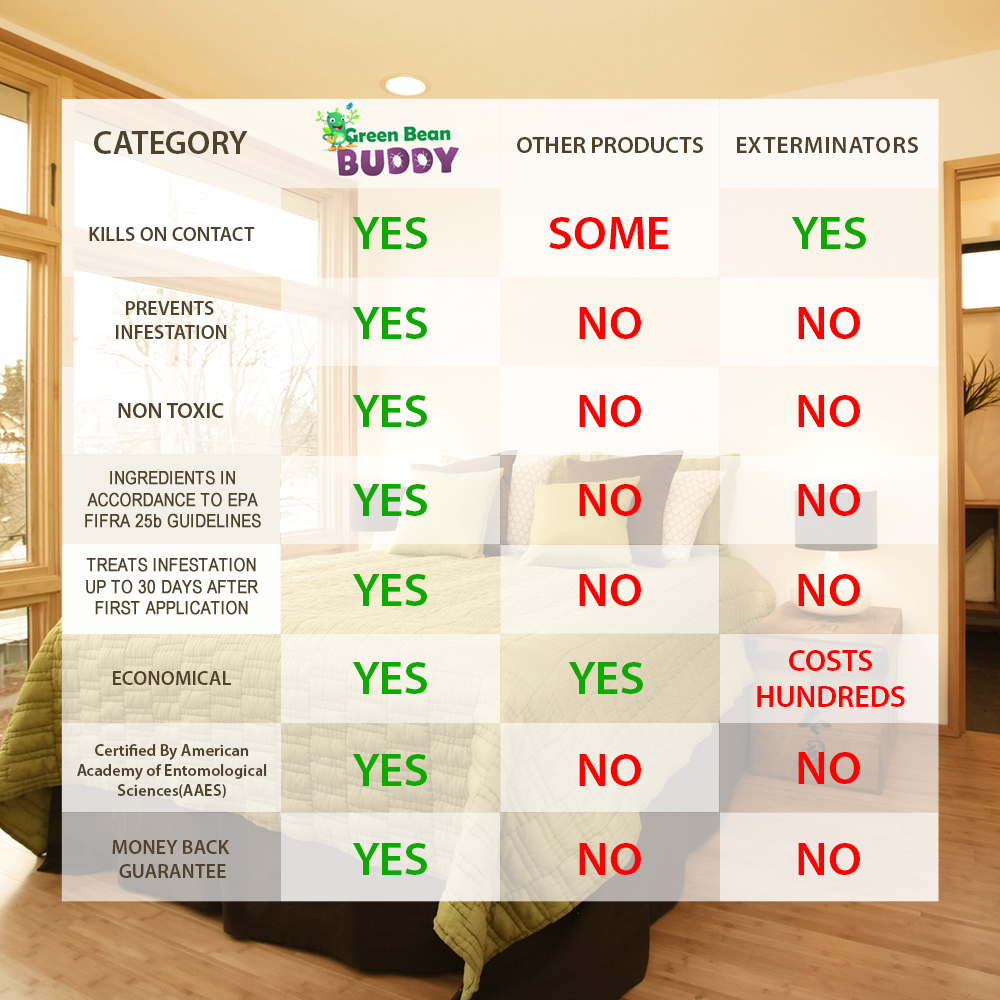 This product has not been registered by the United States Environmental Protection Agency. Green Bean Buddy LLC represents that this product qualifies for exemption from registration under the Federal Insecticide, Fungicide, and Rodenticide Act.
3rd Part Lab Tested by AAES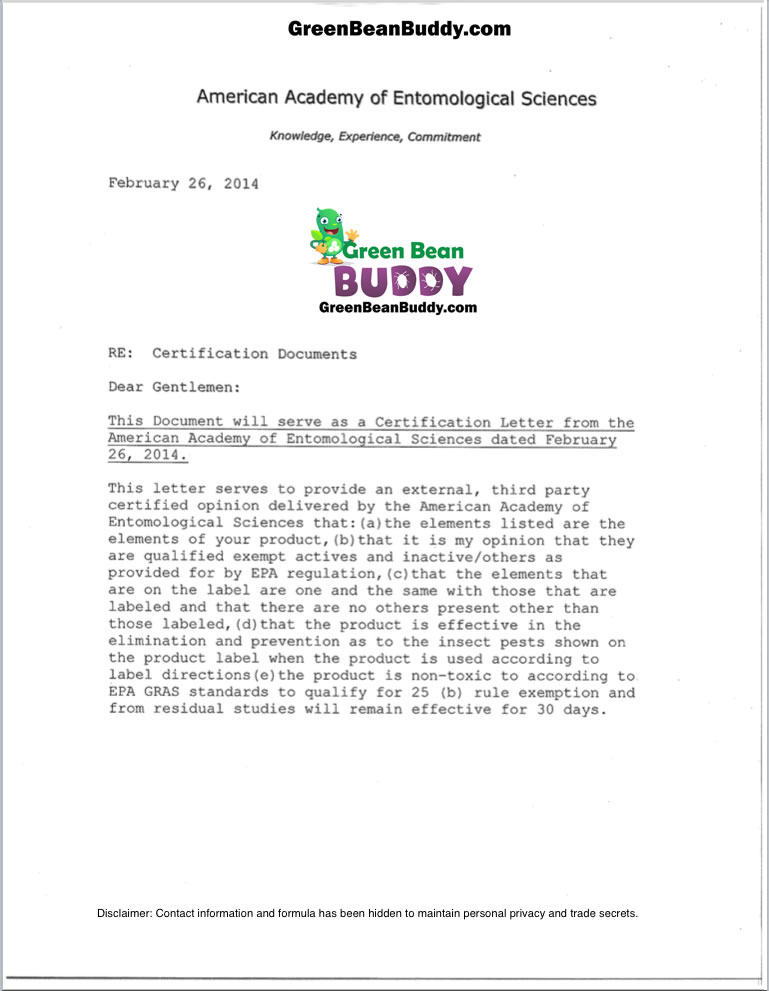 Returns:
We always strive to be upfront and honest to our customers. We accept returns for unopened and unused products. Since this is a consumable item, we do not accept empty or entirely used products. Please be advised returns must be requested within 30 days of your purchase date. You can read our return policy here, to help you understand how we handle returns.
Our primary mission is to help you get rid of this painful insect infestation once and for all.
Just A Heads Up:
This 1 gallon jug of Green Bean Buddy™ Bug Killer does not come with a sprayer. If you would like us to add a sprayer, we can bundle a 32oz bottle with sprayer to your order, simply add it at checkout.
Hypo Allergenic & Replaces Normal Detergent
Delicate Formula, Non-Irritating
Fresh, Non-Irritating Infused Wellness Fragrance
Used By Resorts, Health...
+ 100% Effective All In One Pest Control during a (12)month study - Watch Video + Proven Through...
Active Ingredients:
Soy Bean Oil — 0.78%
Cinnamon — 0.09%
Inert Ingredients: Water , Sodium Benzoate (as preservative), Calcium Silicate, Aluminum Sodium Silicate, Iron Oxide, Magnesium Silicate Product meets requirements of exemption under Appendix APR Notice 200-6, Active Ingredients Which May Be in Minimum Risk Pesticide Products Exempted under section 25(b) of FIFRA (Federal Insecticide, Fungicide, and Rodentcide Act).
Recommended Re-Treatment Cycle:
Since most infestations are larger than expected.
Its recommended to do the following: – 1st Week: Daily treatments around entire bedroom, bedding, home & infested areas
– 2nd Week: 3 treatments spread evenly through out week
– 3rd Week: 2 treatments spread evenly through out week
– 4th Week: 1 or 2 treatments spread evenly through out week
– 5th Week: Re-treatment every 30 days is recommend for prevention
Note: As a customer you will receive a Digital Download guide on the exact procedures to follow when using the Green Bean Buddy Bug Killer. You will be able to download this guide on your receipt page or by email. The guide was developed with collaboration of our pest management professionals to ensure you properly manage your pest infestation.
Additional information
| | |
| --- | --- |
| Weight | 9 lbs |
| Dimensions | 7 × 7 × 7 in |
| Size | |
| Coverage | |
Related products
$

19.99

Rated 4.20 out of 5