No Bleach, Mold Stain Remover & Brightener, Molderizer
From: $13.33
+ Treats Surfaces Against Mold Stains, Mildew Stain, Soap Scum
+ Brightens and Whitens Stained Surfaces
+ Great for a/c duct cleaning
+ Bleach free, Contains No Sodium Hypochlorite
+ Deodorizes Musty Odors
+ Used By Mold Professionals & IAQ Industry
+ Ready to Use, No mixing
From: $30.00
Description
Naturally derived no bleach, mold stain and mildew stain remover. Specially developed for mold professionals working on mold remediation projects without the need of evacuation. A powerful formulation cuts labor costs for mold remediation teams due to the immediate cleaning of mold stains and mildew stains with minimal sanding, scrubbing and wiping on moldy surfaces.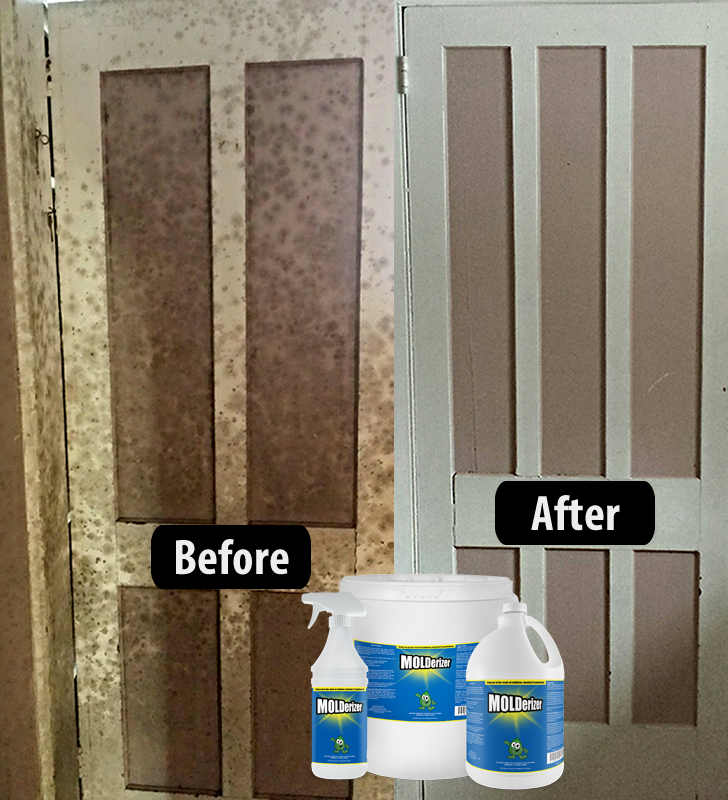 No bleach or sodium hypochlorite formulation which causes concerns of many hyper-sensitive mold sufferers.
Currently being used in resorts which cater to hyper-sensitive guests. Complete remove any lingering mold or mildew stains in your home, bathrooms, facility, or anywhere you see mold stains amplifying. Can also be used in A/C systems.
Active Ingredients:
Naturally formulated mold removal soltution. The exact formulation is proprietary although below should give you a better understanding of the unique ingredients used to create Molderizer.
No bleach or harsh chemicals
Contains No sodium hypo-chlorite
No harsh odors
Bio-Degradable & Environmentally friendly
Peroxide based with additional proprietary formuations
For air filters: When treating air filters, remove filter from unit before treatment. When treating carpets or wet cleanable synthetic fibers, vacuum thoroughly prior to cleaning.
For all other surfaces: Test small area first for color-fastness and surface immunity. Verify no staining from product. Then clean surface prior to application. Shake well. Using trigger pump sprayer, spray entire surface area 4"- 6 from the surface making sure the surface is completely covered. Let stand until dry. If spotting occurs, wipe with moist cloth or sponge. If necessary, reapply as needed.